Monaco Motorsports is your home for BMW, Audi, and Mercedes carbon fiber car parts.
Shop By Make
superior line of carbon fibre performance parts
Monaco Motorsports leads the way in delivering top-notch performance upgrades with a focus on carbon fiber car parts. Elevate your driving experience with our meticulously crafted carbon fiber performance parts designed for BMW, Audi, Tesla, Supra, and Mercedes enthusiasts.
Trending Carbon Fiber Car Parts
Check out the most popular products from our Monaco Motorsports fam.
What they're saying
Just purchased Carbon Fiber Mirror Cover Replacements for my M3. The install was very easy and they turned out fantastic. I've gotten a lot of compliments on them already and couldn't be happier with the way they turned out.
NICKY K.
The Full Effects! I purchased the entire carbon fiber ground effects, and it looks amazing. I get so many compliments and stairs! Thank you guys for all you do!
MOSES L.
These Are A Must Have Hands Down :) The product quality is superb, and the packing was as good . I would recommend this company for these products .
EUGENE N.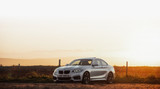 Our Journey
Monaco is the pinnacle of style and luxury in Europe, which in turn reflects onto the exotic automobile culture. At Monaco Motorsports, we understand this culture and desire to express style through design. Established in Los Angeles, California, Monaco Motorsports posses a passion for luxury European automobile aesthetics. We strive to provide our clients with knowledge on the automobile industry in order to satisfy their needs. Our number one goal is to deliver high quality products with the ultimate client satisfaction.
Learn More